ASPENHEIM FARMS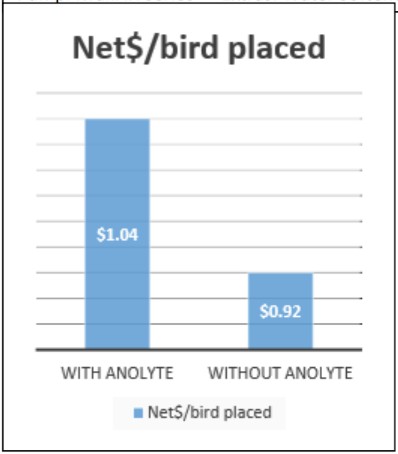 ASPENHEIM FARMS - BAGOT, MANITOBA, CANADA - 50000 BROILER FARM OPERATION
BENEFITS:
• Promotion of general health as a drinking water additive
• Super effective disinfectant, waterline cleaner, and biofilm/scale remover • Statistically proven better mortality, digestion, weight gain & feed conversion
• Disease control, and cure
• Rapid Return on Investment
• Grain and feed storage additive (reduced mold)
• Bacteria control through misting or fogging (Pest Control on the skin)
"After installing the system and deploying the Anolyte solution we immediately noticed a huge difference in our operation. The Anolyte Cut our mortality rate under half, from an average of 4% to ~2% with better shipping weights, better feed conversion, cleaner water lines and lower condemned percentage. Anolyte is also used to disinfect and clean the barn with fogger supplied by Omnilyte." The chart was computed over 5 batches with no Anolyte versus 3 batches with Anolyte. Overall, great investment, and would recommend this product to everyone.